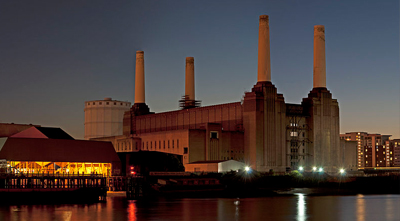 Photograph by David Samuel -
Wikipedia
Circus West
The first phase of the redevelopment of Battersea Power Station will create a self-sustaining urban village and vibrant community in its own right. As well as the 850 apartments across 8 blocks, Circus West at Battersea Power Station will have a range of amenities and services that will make the exclusive location both a destination and a landmark.
Download this Circus West Brochure
Circus West Apartments
There will be a theatre, 35,000 sq ft of creative business studios and a 15,000 sq ft gym, pool and health spa. The main Circus West building, designed by Ian Simpson Architects, snakes along the western edge of the Power Station, wrapping its art deco industrial splendour in a reflective glass skin.
Circus West will have an elevated residents garden
and direct access to the Thameside pathway
Here's what's been said about the exciting London apartment development at Battersea Power Station.
Since Battersea Power Station ceased generating electricity in the 1980s, development proposals for what is Europe's largest brick building have included a Disneyland, a nightclub, a football club and just about everything in between. Read More
Homes alongside London's iconic Battersea power station have gone on sale, three years before the first one will be ready to move into. The Circus West development will see 800 homes built around the south London landmark, which is the largest brick building in Europe and has achieved international fame as the backdrop for films and TV programmes and the cover for Pink Floyd's 1977 album Animals. Read More
Dozens of people queued this morning to be first to buy a home at Battersea Power Station. Many of the buyers, who numbered about 50 when the sale began at 10am, said they were investing in the £5 billion development in the hope that the regeneration of the area will raise the value of their property. Some 800 homes, from £338,000 for a studio to more than £6 million for a penthouse, are going on sale. Read More
Future phases of Battersea Power Station redevelopment are planned for the site.
Circus West Village Hall
The Circus West Village Hall will create a beating heart in the centre of Circus West. Village Hall will be created in partnership with The Battersea Arts Centre.
Find out more about the Circus West Village Hall