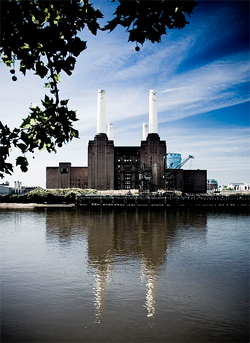 Photograph by
Russ Anderson
-
Wikipedia
Battersea Power Station
Battersea Power Station is a decommissioned coal-fired power station located on the south bank of the River Thames, South West London. It comprises four chimneys, giving it an iconic look, famous around the world.
The Circus West development will see 800 homes built around Battersea Power Station, the south London landmark
Battersea Power Station has become an iconic building. It has been featured in or used as a shooting location for many films, television programmes, music videos and video games. One of the main reasons for the power station's worldwide recognition is its appearance on the cover of Pink Floyd's 1977 album, Animals, on which it was photographed with the group's inflatable pink pig floating above it. It's not surprising that the building's future use has drawn much interest.
Circus West at Battersea Power Station
There have been many plans and rumours about the site's future use, including theme parks, and a football stadium. The redevelopment of Battersea Power Station is finally here, starting with Circus West.